Erie County Branch Office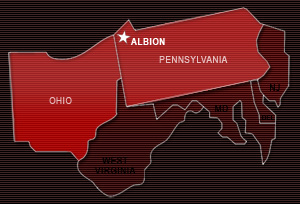 Rabell Surveying & Engineering A Division of LSSE offers similar land surveying and civil engineering services to individuals, developers, municipalities, authorities, architects and contractors in the northwestern PA and eastern OH area since its founding in 1981. We are located in Albion, Erie County, Pennsylvania, approximately 12 miles east of the Ohio/Pennsylvania line.
Completed projects range from single lot individual property surveys to multi-million-dollar capital and infrastructure projects.
Rabell Surveying & Engineering A Division of LSSE has more than 35 years of experience in the land surveying/civil engineering field, as well as utility construction experience.
We are continually updating equipment and software to remain current in today's technology stream. Staff training, personal/professional growth, diversification and development are offered to keep consistent with current industry standards and to provide reliable service to our many clients. Collaborating with the client to understand the various technical aspects of the surveying and engineering fields is essential in establishing long-term relationships with our clients. Client satisfaction is our goal.
Contact Us
10560 Walnut Street
Albion, PA 16401
Ph. PA: 814-756-4384
Ph. OH: 440-275-3581
Fax: 814-756-5638
E-mail: info@lsse.com
Services

Surveying
Mortgage Surveys
Minor & Major Subdivisions
Land Development Plans
ALTA/ACSM Surveys
Topographic Surveys
FEMA Elevation Certificate
Construction Layout
GPS Services
Legal Description Preparation
Engineering
Municipal Engineering and Design
Waterline Design
Water Storage Tank Design
Water Pump House and Booster Station Design
Storm Sewer Design
Stormwater Management Plans
Construction Estimates
Contract Development and Bidding
State Regulatory Agency Permitting
Erosion Sedimentation Control Plans
National Pollutant Discharge Elimination System (NPDES) Permits
Highway Occupancy Permits
Construction Inspection
Sanitary Sewer Design
Sewage Pump Station Design
Small Flow Treatment Facility Design
Individual Residential Spray Irrigation Systems (IRSIS)
Wetland Delineation